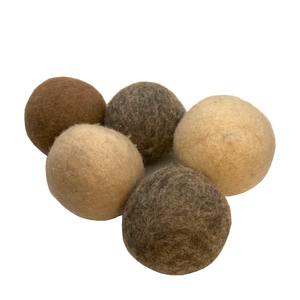 Earth Tone Dryer Balls set of 5
Dryer Balls are the most amazing natural product for your dryer.  These 100% wool dryer balls have many benefits.  The wool is from a maritime P.E.I. supplier.
- Eliminate the need for dryer sheets and fabric softener.
-Reduce your drying time from 10-20%.
-It also helps collect pet hair, but if you own a pet you know nothing is 100% effective against those pesky hairs.  

*Colours may vary depending on available wool.